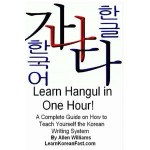 Learn Hangul in One Hour!
Just an update that my book, which I wrote several years ago, about learning hangul, the Korean alphabet, is now available in paperback via Amazon.com
I published it through PowerMeUp Publishing for now, and I'm happy with that.
I had offers years ago to publish this through some larger Korean publishing companies, but all of them wanted me to expand it into a full/complete course.
Anyone who knows me at all knows I am totally against calling anything 'complete' much less a language book. I think you need a wide variety of approaches, and texts when necessary, in order to learn anything and learn it well.
Thanks to everyone who has previewed and tested the book over the past few years, and I hope many more people will be able to benefit from it.
Allen